Results tagged ' anibal sanchez '
It's that time of year again. That time when you realize your resolution to lose 30 pounds failed – in fact, we gained 30, didn't we? When your declaration that your vampire novel would finally be finished and sent to the publisher, never got off the shelf.
Or that your dream of visiting Tahiti ended up being a shady motel for a weekend in Oakland on business.
Now that we've set a bleak mood, here's the point: It's New Years resolution time. We will all be making them, whether it's private or public. And likewise, our favorite MLB teams must have one resolution they are aiming to accomplish in 2013.
Since we survived the apocalypse for now, here are Three Up, Three Down's resolutions for every MLB team:
AL West:
Texas Rangers – Make a new friend – The Rangers either shopped in the wrong place or got screwed over for every player on their Christmas wish list. It's not too late to snag Justin Upton from the D'Backs, though it gets less likely with each passing day. Texas should be going after the powerful right fielder hard in January.
Los Angeles Angels – Make a little money – Hear me out. Everyone knows that Arte Moreno and his Angels are filthy rich, but do they really have enough left over to re-work the decimated starting rotation? Trading for Jason Vargas was a nice touch, but will Vargas, Joe Blanton and Tommy Hanson really replace Zack Greinke, Dan Haren and Ervin Santana?
Oakland A's – Move to a better 'hood – Lew Wolff is fooling nobody. Because everyone and their mother knows that o.Co Coliseum is not a viable venue for a professional baseball team. Wolff claims he wants at least another half-decade in Oakland, but I'm calling his bluff. Their resolution should be to get OUT, and fast.
Seattle Mariners – Bulk up – No, not on the Bartolo Colon diet. The M's took a good first step toward that workout regimen by trading for Kendrys Morales. But just because that punch-less offense now benches the bar doesn't mean opponents will quiver with fear. The M's need to go out and get some more power to legitimize those playoff hopes.
Houston Astros – Graduate – It's no secret that the 'Stros are a big work in progress. Moving to what was last year's best division in baseball isn't going to help things. While the other four teams in the division are – at the very least – grown men, Houston is struggling to graduate from a student to a serious businessman. Can they take that step in 2013?
AL Central:
Detroit Tigers – Learn to close – Take this as you may. There are thousands of frat boys in America resolving to improve in the same fashion next year. But I meant it as a nod to the Tigers getting handled in a sweep in the World Series in 2012. Adding Torii Hunter and bringing back Anibal Sanchez were big steps, but 2013 will be a failure without redemption.
Kansas City Royals – Become a "cool kid" – Oh, don't pretend like you weren't aspiring to be one your whole academic life. The Royals got some nice clothes and a haircut over the winter vacation, and are looking to butt their way into the "in" crowd. In baseball speak, that means they are aiming to be the new playoff darlings after adding much-needed pitching.
Cleveland Indians – Get along with Dad – The relationship wasn't that bad before, but the Indians sure would like to impress new skipper Terry Francona in 2013. Cleveland is loaded with untapped potential, and they are hoping to play well for a full season to show their manager and fans that they are serious about this job.
Chicago White Sox – Prove everyone wrong – Wait, didn't they do that last year? Sure, but people like me are still unconvinced. Their numbers were unexpectedly good, but that just makes the boss curious. Can they repeat? Do they actually deserve the promotion? The Chisox sure would like to move on up, but they will have a tough road.
Minnesota Twins – Get back on their feet – Plenty of people have to resolve to do this every year. Whether it be an economic downturn,  family problem, or injury, some years are just destined to be awful. The Twins know they won't contend in 2013, but they can start the grueling process of getting back to a stable place.
AL East:
New York Yankees – Forgiveness – They better learn how, because former public enemy number one, Kevin Youkilis, will be manning third base for the Yanks in 2013. What this really means, is that if Youk bounces back and has a good year, the Yanks will forget all about their problems, and likely return to the postseason.
Boston Red Sox – Get cleaned up – This kind of resolution is usually reserved for a junkie of some kind, but it'll fit nicely with the BoSox here. Boston got so far off track last season that they traded away millions of dollars in bad contracts for below-average prospects. Once they finish cutting out the rot, the Sox might contend again, even in this division.
Toronto Blue Jays – Build an empire – Such a wish is much more foreboding when applied to business in the real world, but opponents of the Jays should really be terrified of the changes this team has made. Their one and only goal with so many major acquisitions must be to not only make the playoffs, but to dominate everyone on the way.
Tampa Bay Rays – Try something crazy – I want to go skydiving, or hike a volcano, or start a band. The Rays, however, should do a whole different kind of crazy. Start Wil Myers in the big leagues, and see if it takes off. The kid is ready, and the lineup needs a boost. Anything remotely good from Myers may mean a playoff berth for Tampa.
Baltimore Orioles – Update the security system – In this day and age, you can't be too careful with home security. I'm not talking a drawbridge and moat, but we've learned that the best teams are thriving because of good pitching staffs, to protect any other weaknesses they may have. Baltimore NEEDS a couple starting pitchers.
NL West:
Los Angeles Dodgers – Give to charity – I swear, this isn't even a "rich ownership" joke. Okay, it kind of is. But with all the money this team has shelled out over the past ten or so months, why isn't their most deserving commodity seeing any of it? They keep talking about an extension for Clayton Kershaw, but show the fans you mean business!
San Francisco Giants – Share with friends – Not the World Series title itself, although this Dodgers fan would appreciate them passing that honor along next season. I'm talking about the Giants sharing with their San Francisco cohort, the 49ers. As the new year starts, the 49ers will be in contention for a title of their own, and any advice would be great.
Arizona Diamondbacks – Cut ties with a family member – Sometimes it's just necessary. You hate to see anyone secede from the clan, but signing free agent outfielder Cody Ross makes it inevitable. Will it be Upton? Adam Eaton, Jason Kubel or Gerardo Parra? One will need to go, and it's only a matter of time before they get dumped.
Colorado Rockies – Get health insurance – I know, I know. It's not affordable in this country anymore. That's one thing I won't argue! But you have to think, given the regularity of major injuries to Colorado's best players (Michael Cuddyer, Troy Tulowitzki, etc.) they would find any way to keep everyone off the DL.
San Diego Padres – Earn a promotion – Any opponents who take the Padres lightly in 2013 are foolish. With Chase Headley, Alexi Amarista and Yonder Alonso backing an underrated pitching staff, San Diego could be the A's of 2013. They will have to fight and scrap their way to get there, though.
NL Central:
Cincinnati Reds – Follow through – This is a tough one for any given person to accomplish. We make all sorts of promises to ourselves that oftentimes go unfinished. The Reds have made a silent pact to be even better than they were last year, and finally achieve what they've been on the brink of for years now. They might be the team to beat in the NL next year.
St. Louis Cardinals – Rekindle the flame – In a non-romantic way, of course. One of the reasons the Cardinals were able to shock fans everywhere and make that insane title run in 2011 was the clutch gene. They weren't missing it last year, but everything was just too inconsistent in St. Louis. If they rediscover their balance and passion, watch out everyone else.
Milwaukee Brewers – Be a good parent – Confused? Good. The Brewers almost clawed their way all the way back into a Wild Card slot in 2012 after a dismal, bullpen-failure-laden start to the year. With a loaded lineup and above average pitching staff, this should not happen again. So their resolution is to help tutor young shortstop Jean Segura into a star.
Pittsburgh Pirates – Improve their grades – The Pirates were so close to being eligible last year. Not for the playoffs, or any nonsense like that. But to finally getting over the hump. Pittsburgh needs a 2.0 to be eligible – in this case, they need 81 wins – to be taken seriously. Will they reach the .500 mark? A slight improvement in 2013 will do it!
Chicago Cubs – Change their image – There really is no changing an entire image built around loss and devastation, as Cubs fans have known all too well for over a century. But even a slight uptick in wins and a breakout season from one of their young stars (Brett Jackson, maybe?) will at least give people hope that they can change.
NL East:
Washington Nationals – Make up – Adam LaRoche needs to be back in D.C. for 2013. All he wants is one extra year on a contract he has more than earned. Without a doubt, he was the most consistent hitter on the best team in the league in 2012, and should get paid as such. My New Years advice to the Nats is to make up with him. Sign the guy for three years.
Atlanta Braves – Learn acceptance – I remember being taught in psychology that the standard grieving process goes Denial, Anger, Bargaining, Depression and Acceptance. Braves fans and any good fan anywhere are surely coming out of the Depression stage right now (I know I am) and trying to transition into Acceptance at the fact that Chipper Jones has retired.
Philadelphia Phillies – Become more patient – This is easier said than done for anyone, but it's especially pertinent in Philadelphia. From an outsider's perspective, I thought Philadelphia was caving into a sinkhole given the fans general reaction to last season's debacle. Patience, Phillie fanatics. Your team is still very, very good. They are close, too.
New York Mets – Have more fun – I presume life as a Mets fan hasn't been very enjoyable for the past three seasons – well, at least after the All-Star break. But they re-signed poster boy David Wright and gained some really solid prospects in the R.A. Dickey trade. Everything is headed in the right direction, Mets fans. Just calm down and have a little fun with it.
Miami Marlins – Make amends with people – Strange, you say? Au contraire! The smaller fan base that follows the Marlins are no doubt let down by the shocking fire sale that took place this winter. No more executive-speak, front office. Give it to the fans, and your best remaining player Giancarlo Stanton, straight. What is the plan? Honesty will take you far.
Tweet @3u3d with what you think your team's New Years resolution should be, or Facebook Three Up, Three Down with your suggestion! Don't forget to subscribe and follow the blog and podcast here.
– Jeremy Dorn (@Jamblinman)
Posted on December 28, 2012 at 6:51 pm

Filed in:

Uncategorized
Tags: 2012, 2013, 3U3D, Adam Eaton, Adam LaRoche, Alexi Amarista, All-Star break, anibal sanchez, Bartolo Colon, Baseball, Brett Jackson, change, Chase Headley, Clayton Kershaw, Cody Ross, contract, Dan Haren, David Wright, Ervin Santana, facebook, free agent, Gerardo Parra, Giancarlo Stanton, Houston Astros, Jason Kubel, Jason Vargas, Jean Segura, Joe Blanton, Justin Upton, Kendrys Morales, Kevin Youkilis, Lew Wolff, Los Angeles Angels, Michael Cuddyer, MLB, negotiations, New Years resolution, o.Co Coliseum, Oakland A's, R.A. Dickey, San Francisco 49ers, Seattle Mariners, sign, Super Bowl, Terry Francona, Texas Rangers, Tommy Hanson, Torii Hunter, Trade, Troy Tulowitzki, Twitter, Wil Myers, World Series, Yonder Alonso, Zack Greinke
The offseason is upon us! We've already seen a few trades, like Ervin Santana heading to the Royals and Mike Aviles being dealt more than hands at a poker table. The meat that cooks deliciously on the hot stove in the offseason is free agency. Here's the first part of what we can see cooking this winter.
The Big Catch
Zack Greinke is the best pitcher available on the free agent market after being acquired by the Angels at the trade deadline. Greinke may never reach his 2009 Cy Young form again, but he is still in his prime at 29 years old. Matt Cain's recent extension might be the benchmark for what Greinke is looking for on the open market. Who will pay that price though? I can see the Rangers being involved, especially with Greinke's somewhat success in the AL West the second half of 2012. They need the big name pitcher to anchor the rotation with Yu Darvish, Matt Harrison, Colby Lewis, Derek Holland, and Alexi Ogando. He could stay put in Anaheim, where the Angels have gone from a plethora of starting pitching to a need for it with Ervin Santana in Kansas City and Dan Haren's option declined after rumors of being dealt to the Cubs. I would not sleep on the other team in Los Angeles making a play on Greinke to pair at the top of the rotation with Clayton Kershaw; that new ownership is ready and willing to spend money.
The We Wish You Were Zack Greinke, But You're Still Really Good Tier
Hiroki Kuroda was given a qualifying offer by the Yankees, so he might not be on this list for very long. I think a better one-year offer, or even a two-year deal might be enough to pull him away from the Bronx. Would a team go to two years on a starter that will be 38 years old on Opening Day? I think so after he quelled the fears that his numbers were skewed by the NL West and finished with a 3.32 ERA and 1.16 WHIP with the Yankees playing the AL East. In the end, I think he stays with the Yankees.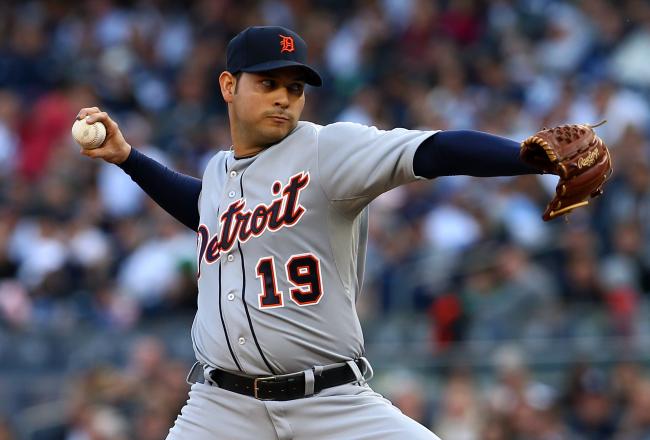 Anibal Sanchez appeared to be a bust after going 3-6 with a 4.55 ERA in his first ten starts in a Tigers uniform. But something finally clicked on September 25th with a 10-strikeout, shutout performance against the Royals. Sanchez used that momentum into the playoffs making himself a ton of money, having a 1.77 ERA in three starts. He doesn't have #1 starter potential, but could make for a great 2/3 for a team. Early rumors have him sticking around in Motown, but I'm sure there will be other teams offering up a deal.
The only other pitcher with the potential to be a staff ace on the free agent market is Dan Haren. Haren had a rough 2012, with his worst ERA and WHIP since 2004. Haren also landed on the disabled list for the 1st time in his career. The Angels bought him out instead of picking up his $15.5 million option. Unlike Greinke, don't expect him back with the Halos. Like Greinke, I could see the Dodgers interested in bringing Haren back to the NL West where he was an ace for the Diamondbacks. I see the Cubs, who tried to deal for Haren, making a play for him. And there are even rumors of another NL West team, the Padres, making a play for Haren's services.
What Pitcher are we Getting Tier?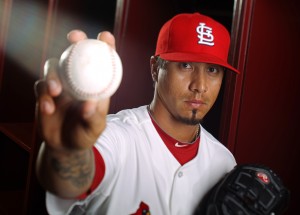 No starting pitcher made themselves more money in 2012 than Kyle Lohse. He went out to prove he was a top of the rotation pitcher, but I would rather take my chances on Haren returning to ace form, than Lohse staying there. Has he learned how to pitch and has full control of his pitches now? Or is he going to return to the terrible form he just had in 2009-10? Someone is going to pay to find out. The Cardinals made a qualifying offer to Lohse, but I think at his age, he is looking to cash in on a long-term deal at big money coming off a career year.
Full disclosure: Brandon McCarthy is one of my favorite players in the league. From his hilarious Twitter account to his great production on the mound and even his value in fantasy baseball leagues, I just plain like the guy. The questions do arise from his recovery after sadly being hit in the head with a line drive this season. It might be that injury though, that gets a team a discount on a solid pitcher that has #2 starter potential. I think the Athletics would like to bring him back at the right price, but if they see the value, I'm sure other teams will too.
What to do with Ryan Dempster? Are you getting the pitcher that led the National League in ERA for the 1st half of 2012? Are you getting the pitcher that had an ERA north of five for the Rangers in their 2nd half collapse? There's not a doubt in my mind that Dempster has eyes on a return to the National League. Going back to the Cubs is a real possibility, especially if he has his killer Harry Caray impersonation still in his repertoire.
Will Edwin Jackson land on his 8th different team, all while still being under 30 years old? He's nothing spectacular overall, but does have his flashes of brilliance. I could see a playoff potential team like Cincinnati, Milwaukee, Philadelphia, maybe even Boston taking a chance on Jackson. We'll see if he gets more than a one-year deal, but he will end up getting around and probably more than the $11 million he made in 2012.
No pitcher had a more Jekyll and Hyde season than Jeremy Guthrie. He was unable to adjust to pitching in Colorado (6.35 ERA/1.69 WHIP), but was a great pickup for the Royals (3.16 ERA/1.13 WHIP), who dumped Jonathan Sanchez. If teams believe in the sea level Guthrie, he could be a solid pickup for an American League team, where he seems comfortable between his time in Kansas City and Baltimore. Based on his dominance of the White Sox, giving up just one earned run over 29.2 innings in 2012, I could see the entire AL Central having interest.
The Wild Cards
Scott Baker's $9.25 million option was declined by the Twins after he had Tommy John surgery. He could stay in Minnesota as one of the best pitchers in that rotation, but there are contenders that could take the chance on him regaining his form to be a middle of the rotation starter. This years "coming to America" sweepstakes? Hyun-Jin Ryu of South Korea. Ryu has a career 2.80 ERA and 1.15 WHIP in his career in Korea with the Hanwha Eagles of the KBO. He's not as sought after as Darvish a year ago, but he could be a solid middle of the rotation starter for a team willing to put up the posting fee for the 25-year old.
The Aren't You Retired? Tier
I'm pretty sure that Andy Pettitte and Roy Oswalt have retired a combined 435 times, but there they are in the free agent pool.  I can't see Pettitte going anywhere besides the Yankees and we'll see if Oswalt decides to pick and choose his spot once the season starts.  Kevin Millwood was a servicable starter for the Mariners, but those numbers may be skewed by Safeco Field.  Derek Lowe was seemingly out of baseball after being released by the Indians, but was solid with the Yankees in a mop-up reliever role.  Ben Sheets showed some magic for a stretch with the Braves, oh wait he actually did retire.  Good for him.
Which starters do you think are the most important of this year's free agent crop? Let us know in the comments or let me know on Twitter!
-Bryan Mapes (@IAmMapes)